Testimonials

On 11 Jan 2018, at 10:46 am, Jess wrote:

Hi Marilyn,

We have received our puppy pack. Thank you. The pack was very thoughtful and informative.

Christian and I have been so impressed with the whole process purchasing our boy, and your service which goes above and beyond. We would highly recommend you to anyone.

We also just wanted to thank you for your communication and photo / video updates through the waiting period. It has made the wait easier and so much more exciting.

Less than a week to go now and we are so ready!!!

Thank you Marilyn and family, you guys do a fantastic job.

Jess ☺️☺️
Jess - January 2018
From: Nat Pisces
I just wanted to thank you so much for little Indi.
She's such an amazing girl.
If you want another review let me know. Would, & have been, glad to recommend you to all.
Thanks again Marilyn,
Jodi
Indi - November 2017
From: Naomi Hammond ] Sent: Saturday, 7 October 2017 3:47 PM
To: 'marilynoakenful@bigpond.com' <marilynoakenful@bigpond.com> Subject: "RUSTY" Hammond
Hi Marilyn,
We have been blessed to have such a beautiful and gorgeous temperament dog to come join our family in May 2017. Our little boy " RUSTY" is a delight and has given our family so much love and joy. He is easily trained and loves everyone and everything! Even the 2 Birman cats we have! Although they don't like to play as much as Rusty.
We cannot imagine life without our gorgeous boy and would highly recommend Oakies Puppies and Marilyn Oakenfull to source a puppy from. He is now a frequent flyer with Qantas as he was flown from NSW into Melbourne to join us. Without a hassle Marilyn did all the hard work and all we needed to do was pick him up from the airport. Even prior to Rusty joining our family Marliyn was so kind to send us weekly pictures of him and updates on his growth and progress. It was sooo exciting opening those facebook messages from Marilyn. Without a doubt I would encourage any family looking at getting a dog to consider a cavoodle from Oakies Puppies. Our smart and adorable little Rusty is one spoilt little pup, and giving so much love in return. Thank you Marilyn for making our families dreams come true. He is an amazing little guy..
Rusty Hammond - October 2017
From: Linda Banks <lindabanks> Date: 3 October 2017 at 8:15:26 pm AEDT To: Marilyn Oakenfull <marilynoakenfull@bigpond.com> Subject: Ruby Testimonial
We have been given the most wonderful opportunity recently to home the most beautiful senior Cavoodle by the name of Ruby who has come from OAKIES PUPPIES. Ruby is six years old. She is the most beautifullly natured dog.
Prior to homing her, two of my nieces took two of Marilyns pups from Rubys litters and have been more than happy with the adorable temperaments of the pups, who fortunately inherited the beautiful disposition of their mother Ruby.
We were also really impressed with how both Marilyn and Lyall went out of their way to prepare Ruby for her new home and to ensure the transition went as smoothly as possible, through getting her used to home living, efficient correspondence and a dedication to transporting Ruby to her new home, in a safe less stressful way. We were really impressed with how they placed the needs of Ruby before anything else.
We are now really excited that Ruby has recently had opportunity to reunite with two of her pups who have now grown up.(See photo below- Ruby in the centre and her two pups -Matilda on the left, Nala on the right)
We would highly recommend either homing Marilyns pups or her oldies as our family has experienced great joy and satisfaction in doing both. They are beautiful dogs that will change your life!
Linda
Ruby - October 2017
We received our spoodle 'Lola' from Oakies Puppies she was well adjusted, great with people and other dogs and almost toilet trained. Marilyn kept us in the loop before we received her with many photos and videos and updates on her health, which was great as we were so excited to meet her.
Lola has the best temperament, she is full of love and energy and is really clever. Everywhere we go we get SO many compliments on how gorgeous she is. I would highly recommend puppies from Oakies Puppies!
Lana Kavanagh
Lola - August 2017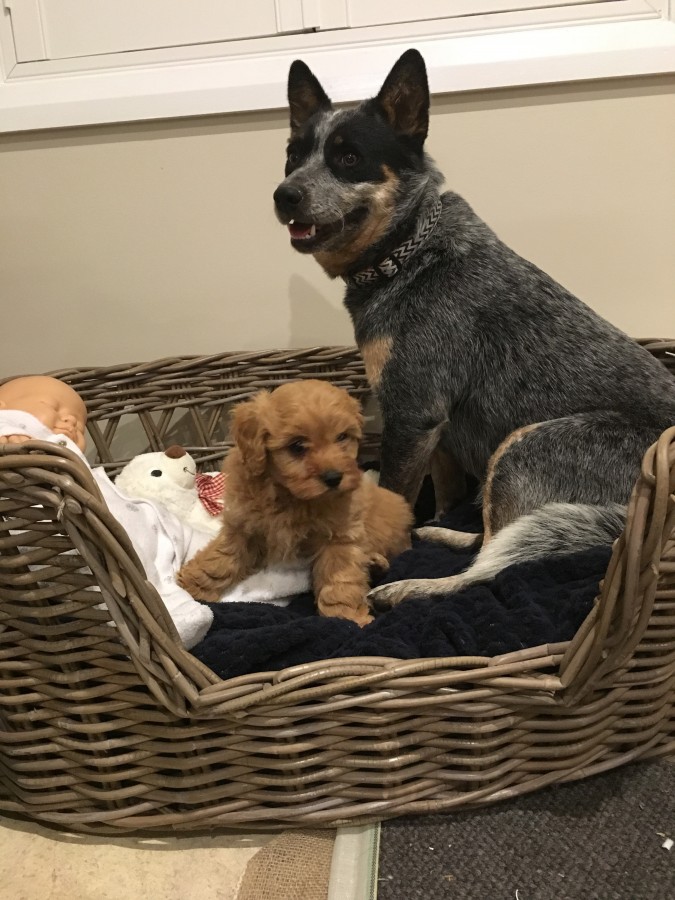 click for larger photo
Archie has met all the girls and has settled nicely. Everyone loves him! Just having a little snuggle with his dolly and heated teddy. Thank you again
Archie - August 2017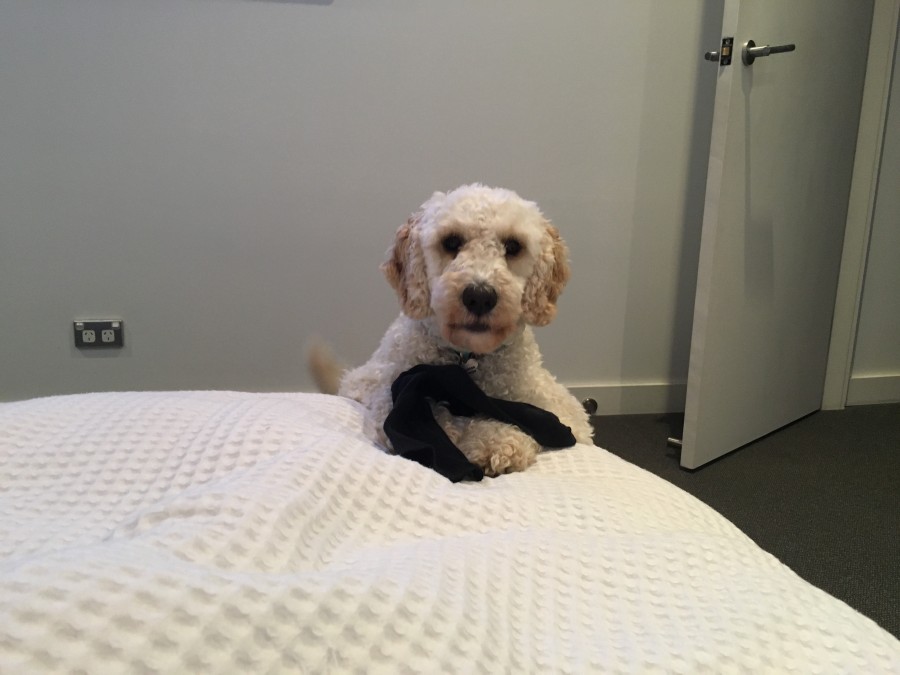 click for larger photo
Hi Marilyn, Dougie is great thanks! He'll be one in a month. We love him so much! I've attached a recent photo of him. Exciting to hear that your website is up and running. More than happy for you to use our photo and comments. Nikki
Dougie - August 2017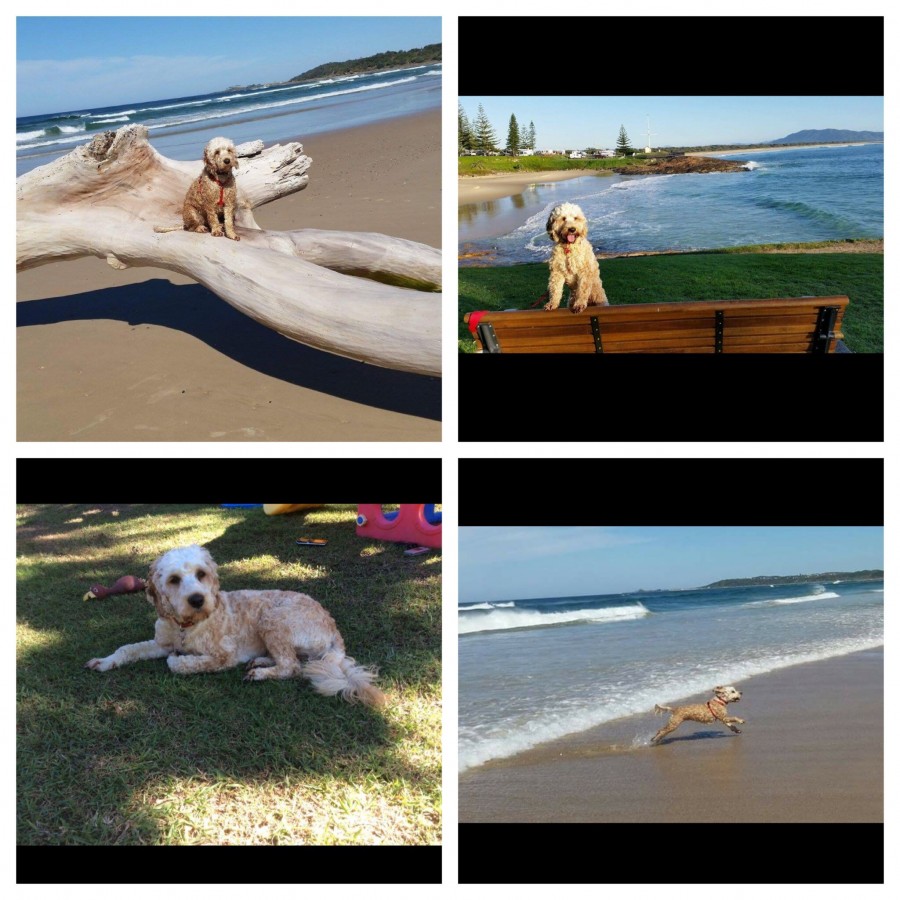 click for larger photo
Hi Marilyn, I hope these are of some use to you, there are also his birthday ones I sent in May.
Best wishes
Margaret.
Ted - August 2017
I think we are all very happy and no we are not going to call her "Chewie" (Chewbacca the Wookie from Star Wars) .
She is truly the most wonderful Pup I have ever had and I have had a few Labradors as well as educating an RSB pup so I was expecting a week of sleepless nights.....
First night was as expected, after getting her home after 8 PM on Friday, poor mite she must have been terrified and cried most of the night,
Next day, fun ,fun and lots of love and a few visitors who all adored her, which she lapped up. Then Saturday she slept the whole night through until I woke her at 8-30 for breakfast !!! WOW..and the most amazing thing was after breakfast and an accompanied watering of the back garden, 10 mins later she scratched the front door, barked at me to let her out whence she proudly laid her first Poo on the front lawn and waited for applause....which she had lots of....What an amazing Pup.very much at home now , who we have decided to call Sasha.....
Jan and I thank you so very much for the most wonderful treasure and the professional and friendly way you have made this possible for us ..L.O.L
Terry & Jan & Sasha  - August 2017